Posted on
March 12, 2021
in
SURFACE CLEANLINESS MEASURABILITY
To begin the process of updating an existing cleaning system one would look at the efficiency of each existing section and its operating cost, as a guide for future modification or replacement. 
Most of which are all offline measurements and not real-time.
The easiest, quickest, and least expense method currently to implement as a measure for smut and dirt is by the tape test.
The tape test is performed by running a piece of tape under a fixed pressure on the strip and then taking it off and putting it on a white sheet to measure its relative grey level. This is a visually subjective test.
Basically, the sticky part of the tape pulls the dirt off the strip, that may be present, and then we put it on a white sheet. This will show us how much, by its shade of grey:
 

Dark grey means there is a lot of dirt left on the strip.

 

Light grey means the strip is "fairly" clean.
The "tape test" applies to oil and smut removal.
Gross Precision, Totally Qualitative:
 

Scotch Tape Test

 

White Wipe

 

Nonvolatile Residue (NVR)

 

Ultraviolet (UV) Fluorescence

 

Water Break Free (WBF)
Precise, Quantitative:
 

Auger Electron Spectroscopy (AES), FTIR, SEM,

 

Gas Chromatography/Mass Spectrophotometry (GC/MS),

 

Electron Spectroscopy for Chemical Analysis (ESCA), etc., etc.
Semi-Precise, Qualitative & Quantitative:
 

Contact Angle Measurement

 

Millipore

 

Optical Microscope

 

Dyne Fluids

 

Solvent Wash (Particle Count)
ALL ARE OFFLINE EXCEPT:
 

MAYBE THE WHITE WIPE & TAPE TEST
STAR TOOLS & DIE'S LASER ABLATION
The following tests are all QUALitative Test.
Qualitative test means VISUALLY, how dirty did my sample become.
These measure "shades of grey"
( on & off-line ) & "L-Value ( from CIE L *ab* )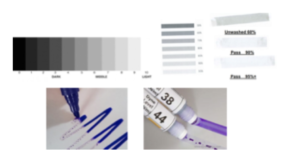 The following test are all QUANTitative Test.
Quantitative test means VISUALLY & MEASURABLY, how dirty did my sample become.
These measure "shades of grey" ( on & off-line ) & "L-Value ( from CIE L *ab* )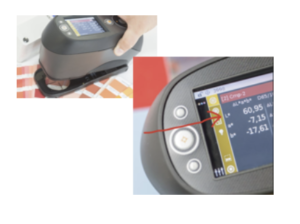 The 2nd very important element for metal producers is iron fines, which is more difficult to measure. 
The easiest way to measure the residual iron fines on the strip surface, is done by sampling and examining in a lab, as an off-line measurement.
 In most cases this is done by the whip test:
taking a special material

wiping it on the metal surface to collect the iron fines

taking it to the lab and processing it, where the carrier is pulverized

weighing the residue iron fines left
 This method is not real-time and therefore not performed readily.
ALL OF THESE ARE OFFLINE TEST, EXCEPT MAYBE THE WHITE WIPE & TAPE TEST.
CURRENTLY, LASER ABLATION IS BEING DESIGNED AND TESTED AS A MEANS OF ONLINE QUANTITIVE STRIP CLEANLINESS MEASUREMENT.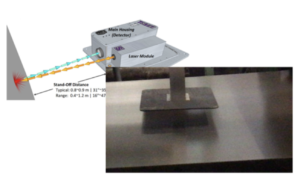 Related posts