Posted on
May 11, 2021
in
ULTRASONIC CONTINUOUS CLEANING SYSTEMS FOR WIRE ALLOY
There are 3 methods industrial wire, rod, and bar manufacturers and producers use today for cleaning, degrading, and removing stearates, and drawings oils from the metal surface. 
Electrolytic cleaning using chemicals, 

Mechanical cleaning by means of shot blasting, coated abrasives, and/or abrasive brushing, and 

Ultrasonic cleaning
In today's blog post, we are going to discuss our IN-LINE ULTRASONIC wire cleaning system.
For wire manufacturers, the production goals of higher quality, faster production, and lower operating costs are achieved.
AREAS OF APPLICATION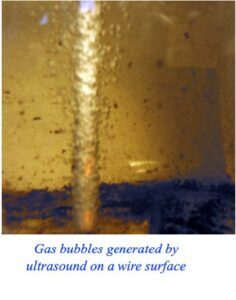 With chrome/nickel alloys and for non-ferrous metals in particular, cleaning that is gentle 
to the product is crucial and desirable. 
For this purpose, especially, it is advisable to carry out surface cleaning using ultrasound, since this process does not attack the basic material.
This procedure allows you in particular to remove stearate and rolling and drawing oils from the surface with processing times of about 1 second.
Before carrying out heat treatment, in particular, it is possible to achieve extremely high levels of cleanliness at a relatively low speed and in a tight space using ultrasonic degreasing systems.
HOW ULTRASONIC CLEANING FUNCTIONS

In the case of ultrasonic cleaning, small-scale pressure and suction waves are introduced into a liquid. This is done via vibrating elements that are attached to one of the sidewalls of a chamber or too its base. 
When the vibrating elements are actuated electrically, they expand and retract. In the pressure phase, the liquid is displaced. At contraction, the liquid tries to follow but does not manage to do so due to inertia, which means that a cavitation bubble forms.
At reversal to the pressure phase, the bubble collapses suddenly and drags everything close to it towards its centre point, i.e. away from the workpiece. Many millions of these cavitation bubbles work in this way until everything that is adhering on the material to be cleaned has been removed.
DIGITAL ULTRASONIC GENERATORS SUITABLE FOR ANY CLEANING JOB
With their frequencies of 25 kHz to 1 MHz, our digital ultrasound generators offer convincing and highly consistent amplitudes and performance. 
In this way, you can use our ultrasound generators to clean even the most sensitive materials and surfaces effectively and gently. 
Our ultrasound generators are the best choice when you have cleaning processes that require different sound frequencies.
ULTRASOUND GENERATORS WITH FREQUENCIES OF 25 kHz to 1 MHz
The digital frequency generation and regulation capabilities of our ultrasound generators are particularly effective and ensure high levels of operating and process reliability. 
They offer high consistency of amplitudes and performance and are available with standard frequencies of 25, 30, 40, 80, 120 and 250 kHz and in different equipment variants. 
Our ultrasound generators offer you an optimum solution for coarse and fine cleaning as well as for cleaning processes that need different frequencies. 
APT-WESERO ultrasound generators combine innovative technology with high levels of efficiency and convincing quality.
THE RIGHT CLEANING CHEMICALS FOR YOUR ULTRASONIC PROCESS
INTERACTION OF CLEANING METHODS AND CLEANING CHEMICALS
To achieve a perfect cleaning result, you must match the cleaning chemicals with the respective cleaning process. 
The important thing when choosing a cleaning agent is to know exactly your base material and the type of contamination as well as the desired degree of cleanliness that you want to achieve.
The cleaning chemical should dissolve the contaminant but must not attach the workpiece. After cleaning, you can create the surface for another process in the rinsing tank. 
An example of this is creating a surface with a phosphate layer to support a painting process or to create a smooth metallic surface to carry out subsequent electrochemical application.
FILTER SYSTEMS TO MAINTAIN THE TANK
The cleaning bath itself must, of course, be treated on an ongoing basis to guarantee a permanent high level of cleaning quality. APT-WESERO has a number of devices and procedures to do this.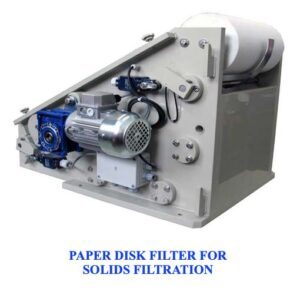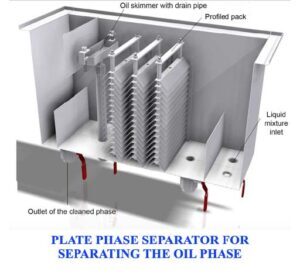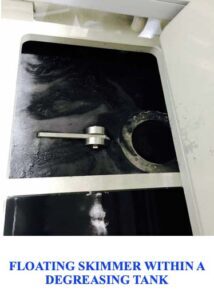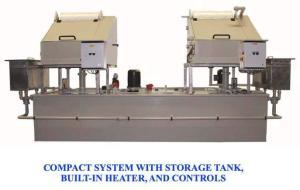 As required, we also manufacture phosphate coating lines.
Be Well, Be Safe, and Be Productive!
Sincerely,
David Thiemann
Related posts